Here's the latest Charity project I've made to donate through my Guild (Empire Quilters Guild in NYC). The fabrics were all donated to the Guild and these fabrics seemed to want to go together. This is called Romantic Florals, Old and New.
The center panel is composed of a group of 6 1/2" squares which I cut by rotary cutter and candlelight, after Hurricane Sandy. In my apartment which had no heat, nor electricity and I'd come home from work and find it was still early, maybe 7- 8:00 PM. So since I wasn't going to bed that early, what to do? Listening to the transistor radio, I started looking at these fabrics and seeing how well they all went together. So I cut a few squares of each of several floral prints. Over the weekends when I was able to be home during the day, I starting playing around with the resultant 25 squares and changing their arrangement.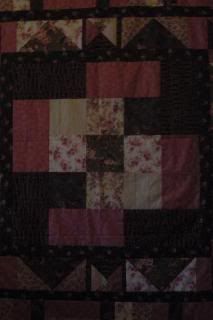 Here are some shots of it on my own King sized bed which. I wanted to show the whole thing, on a bed.
When I heard at the Guild that larger sized quilts were needed, large than lap sized, I decided to grow this quilt larger and began making a border comprised of blocks made from 1/2 square triangles and 1/4 square triangles to surround the center panel. Added some corner squares for good measure. From another angle:
Then to grow it further I added another couple of rows, top and bottom using a setting of Roman Rail. After speaking with several of the more experienced Quilters in my Guild, on the Service Committee, I'd learned some recommended bed quilt sizes and suggested border sizes. Then consulted with them further on setting more corner squares.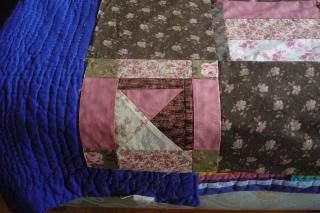 I've donated this top asking that it be long-arm quilted (rather than tied); I hope to post pictures of it when complete.