It was recently suggested to me by the woman who gave me my first baby quilt commission (thanks Denise) that I should post it here on my Quilt Blog since (as she said) it came out so nicely. She asked if I kept pictures of it, as other than one photo with the baby wrapped in the quilt, she had no pictures of it. Happily, I did take pix & kept them, primarily to document the work for myself.
This was an interesting design exercise as I used some commercial fabric panels of animals (the animals were suggested by my friend Denise who commissioned it, as the girl's family lives on a farm) & then added some striped fabrics around individual blocks of patterns & tried to color it in ways that would make it more girl-friendly. Here it's shown slung over a bench at a park in front of my home.
Different views to show the individual blocks and the quilting I chose to do.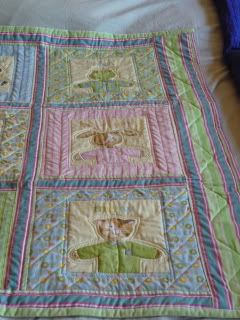 Frogs & monkeys & bunnies & kittens, very little kid creatures, they all seem so cheery & kid friendly.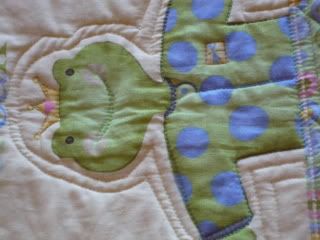 The whole thing again, after first laundering, I love how crinkly it gets after washing & drying!
The final view is of the back; I did the bindings to match so they just disappear into the background & let the animal themed panels of fabric be the star attractions.