Someone donated these blocks to my Quilt Guild & I was asked to assemble them. So I wanted to do justice to these beautifully colored & wonderfully laid out blocks. Initially, I'd picked an off-white to try as border & sashing, but it washed everything out & the group voted it out. Then I saw the light green.
Some of these are Kaffe Fassett fabrics, a bit too bright for me. I auditioned yellow, orange, peach as the inner border, but they were just too loud for me. I hope / feel my choice of turquoise pulls it together well. I think the Maker here has a great color sense (I've since learned her name is Karla). I really admire how she could make such beautifully blended & harmonious arrangements of such intense, bright colors.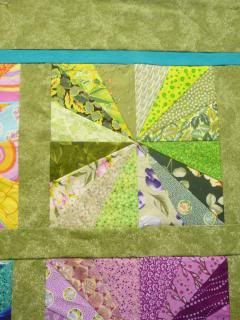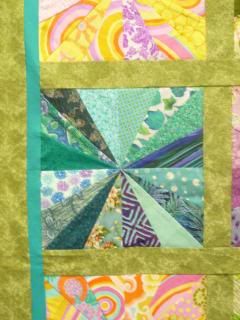 Sometimes charity work allows one to work on really special work by others, a terrific experience all around. I had good fun, learned a lot & feel I did great service to these wonderful blocks.
A fellow quilter at a Quilting forum said the following: " I love when people post pictures and I get to see quilts I would never have dreamed of and yet they are wonderful." That's pretty much how I feel, I really got a kick out of working in colors & patterns which I would have never have chosen on my own. I've since learned we'll be able to have this top long-arm quilted by another of our Guild members & that it'll be backed with the same light green as the borders. I'm so pleased; I look forward to seeing it completed in the Fall.