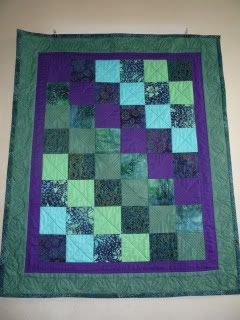 I documented this last year prior to entering these 2 pieces in a show, called "Urban Inspirations" 2011, last March as I wanted to document some of this work BEFORE it was shown. Just didn't get around to finalizing this for the blog, so here goes.
"This type of stitching effect I sometimes do where you really only see the resultant texture in the fabric since the thread color matches the fabric. I guess I'll do it here on Forum first. This tone-on-tone echo quilting, I think of it as 'techo quilting'."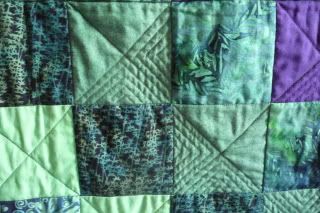 another area of detail: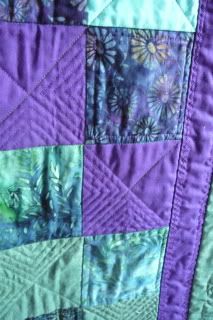 a more overall shot of this type of detail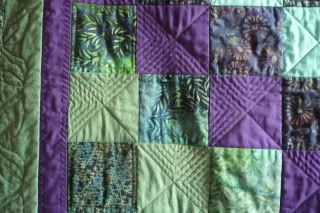 And the 2nd entry
A twin bed quilt I made for my Mother, this her 80th Year (this photo only, credit to Tahli de Courcy at The City Quilter):
As you can see it's a Disappearing Nine Patch, which pattern I find really great.
Here on my bed while Mom was in the Hospital, I had to wait a few months after the Mother's Day I'd originally planned to give it to her, was more like Summer I think it ended up. She just loved it as I knew she would; and in our colors too (blues & greens).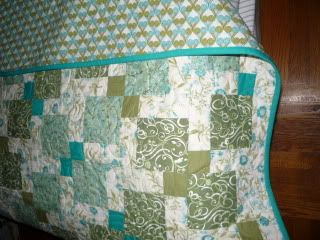 This was my first experience sending out to a long arm quilter ("LA"). Bill Magargal seamed the backing for me, backed & LA quilted it, made the bindings & bound it. I think he did a spectacular job!
These next couple of shots were an interesting discovery. I took the photos outside in a sunny park, on the grass, it really made it look very 3d:
I love the swirl motif, just flows across the entire surface.
I'm so fortunate to have found Bill with whom to collaborate. He's both a long-arm quilter for my LQS (1 one of 2 they use & recommend) & the father-in-law of my oral surgeon. How small a world is that???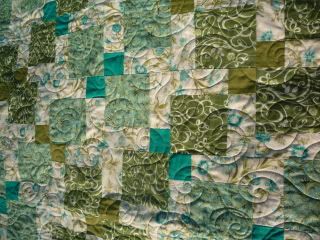 Look how three-dimensional this looks (shot in sunlight in late afternoon in a park)