I'd taken a class in design and color with Davida Hyland and she assigned us to make four different color schemes working with only 4" squares of color (in 2008?).
So this scheme was for contrasting colors, but in colors which I didn't usually use; get ready for brights!
When I first quilted these circles I sensed something Indian, Sanscrit; I don't know if it was the shapes or colors or the combination of both, but I liked it.
Some details of the front:
The back
the back ended up much more fun sewing and quilting
I couldn't find a compass at home at the time, I used a salad plate for the larger circles and the top of a spice jar for the smaller; shapes traced onto the quilt in chalk and machine quilted.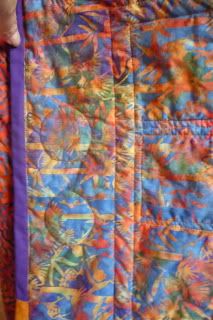 like doodling with one's sewing machine
Good Fun!