Here's my latest fascination: this sample block, a Motif called Depression Block, simple but so very effective.
I had these lovely charm squares in vibrant prints. Seemed like it'd be nice. Against the white it's so crisp & with a subtle directional, white-on-white provides a sharp contrast.
I used a sheer white fabric with it that I'd found & layered it with a sheet of fusible interfacing between the layers to give it more stability. Such fun!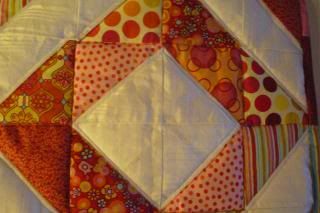 And on the back, I took a chance to play a little bit more.