Another recent work completed for a color class taken last year at City Quilter.
The assignment was a split complementary color scheme. Red and green as complements plus blue green and yellow green (those adjacent to the complement). Turned out to be very difficult for me due to the red. I kept trying different things and adding new fabrics to balance with red.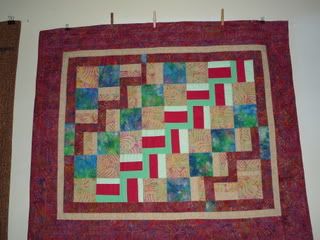 The split rail fence motif in red and greens are what reminded me of the heliconia of the title.
Ultimately, when the front was finished, I moved on to the back eliminating the dreaded red.
I was vastly more comfortable with no bright red and the addition of the turquoise.
Also of interest designwise, is that the back with the teal is one unit of a Disappearing Nine Patch motif, with additional borders to compensate for it being rectangular rather than square.