Earlier this year, Crazy Cats Checkerboard done for charity. Fun combination of fabrics and colors, turquoise used with red, there's a design challenge for me.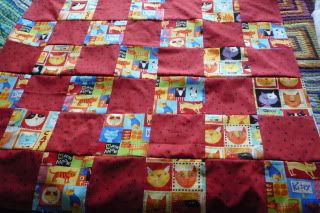 Some recent charity work: this top was donated, in several sections; a quilting colleague (Sara N.) assembled the top from 2 or 3 sections and chose the backing fabric.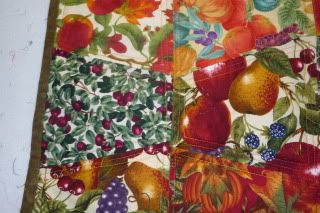 Fortunate choice of this unusual ombred fabric. Unusual in that it goes from red, to yellow to green to brown, rather than the much more commonly seen monochromatic ombres, you know, all shades of blue for example.
The reversible (2 sided) bindings afford really interesting design possibilities.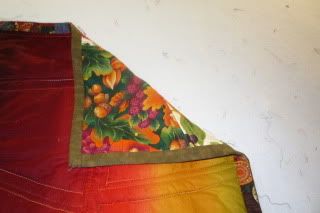 Note the happy accident of the printed binding matching all colors in the ombred back, really fortuitous happenstance and my noticing it and putting it to work. To me, that final detail is a particularly masterful touch.